We Debunk 7 Myths About Cairns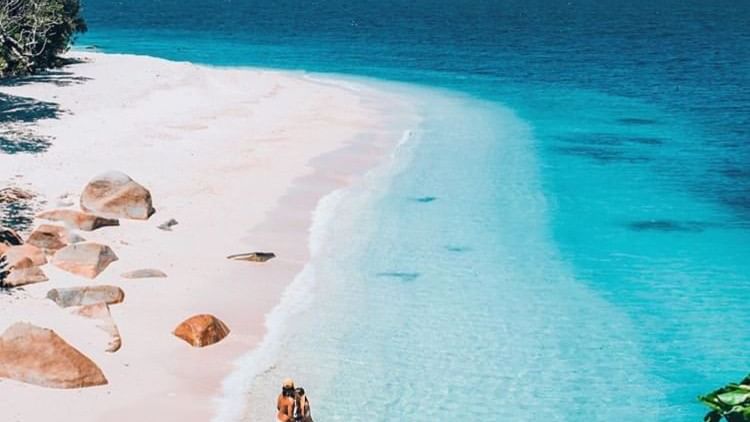 There are a lot of common misconceptions about our beloved city. From crocs roaming the streets to unbearable heat, we've heard many weird and wonderful myths about Cairns over the years.
So, we're here to set the record straight and bust the top 7 myths about Cairns.
Myth #1 – It's always ridiculously hot
While our summers can see the mercury soaring into the 30's and beyond, this sweltering weather only really sticks around for about three months. The rest of the year, Cairns' weather is perfection – balmy tropical breezes, sunny days, and temperatures swaying blissfully between 20-29 degrees. Absolute paradise. Interestingly, Winter (from June to August) is when Cairns really shines with much lower humidity, less rainfall, and deliciously warm days which will leave you saying, "What winter?"
Myth #2 – When it's not ridiculously hot, it's raining
Ok, ok, we'll admit Cairns does see it's fair share of rain during the wet season. But, hey, that's life in the tropics! Rain keeps our beautiful rainforests lush, and our waterfalls cascading, so we can't be too mad about it. However, what many people don't know is that the warm dry season actually runs for most of the year from April to November. So, drop the brolly, ditch the raincoat, and definitely don't skimp on the sunscreen.
Myth #3 – There's nothing to do during the wet season
Let's face it – nobody loves a rainy day while on holidays. But, the wet season is no reason to avoid travelling to Cairns! From our thriving foodie scene, to our wonders of nature and culture, there's still an abundance of things to do on a rainy day in Cairns. Learn about our fascinating indigenous heritage at Tjapukai Cultural Park. Zipline over native wildlife at the fully-enclosed Cairns Zoom and Wildlife Dome. Maybe even just treat yo'self with a day of dining and delicacies from our smorgasbord of restaurants and cafes. Since you're going to get wet anyway, why not get the adrenaline pumping too and test your mettle white water rafting with RnR Rafting or Foaming Fury? The possibilities, albeit a little damp, are truly endless.
Myth #4 – You can't swim in the ocean because of deadly stingers
Ahh yes, these little blobs of fear tend to create quite a stir among tourists, but we can assure you, your chances of being stung are very low as long as you pay attention to beach signage and local advice. Stinger season in Cairns usually falls between November and May, and during this time, most of our beaches are lined with stinger resistant nets and you may be prompted to wear stinger suits in the water. If you do find yourself visiting the Great Barrier Reef during stinger season, don't worry, you won't miss out! The risk of marine stingers on the reef is low, but stinger suits are still recommended, so you can snorkel and scuba without a care.
Myth #5 – There are crocodiles everywhere
Yes, crocodiles do call Tropical North Queensland home, and the warning signs at our surrounding beaches and waterholes are there for a reason – But the likelihood of you actually running into a croc during your holiday in Cairns is fairly slim. While it is very smart to be aware of crocodiles and to always take heed of any signage telling you not to go into the water, it's not something you should be fearful of. If you do want to see some crocs in the wild, check out Hartley's Crocodile Adventures where you can find out all about these prehistoric predators and safely watch them from a boat.
Myth #6 – It's overrun with backpackers
Cairns may be one of the most popular destinations in Australia for backpackers, but we can assure you it is also just as popular among luxury travellers as well. Don't be fooled by Cairns' laidback and low key island vibe, there are many very high-end hotels, activities and restaurants sprinkled all over the city, reserved for those with deep pockets looking to luxe it up. From being whisked away to a secluded island on a Helitour, to indulging in an award-winning fine dining experience, Cairns certainly caters to much more than the backpacker crowd.
Myth #7 – The Great Barrier Reef isn't worth the hype
This could not be any further from the truth! The Great Barrier Reef is our national treasure, and its spectacular beauty should be experienced at least once in your life. While climate change, cyclones, pollution, bleaching and human interference have all sadly impacted parts of the reef, there are still many sections where it is just as healthy and amazing as ever. One of the most important aspects of reef tours is that they help to educate people about this unique natural wonder and the conservation efforts we must make to ensure she's still around for many years to come.