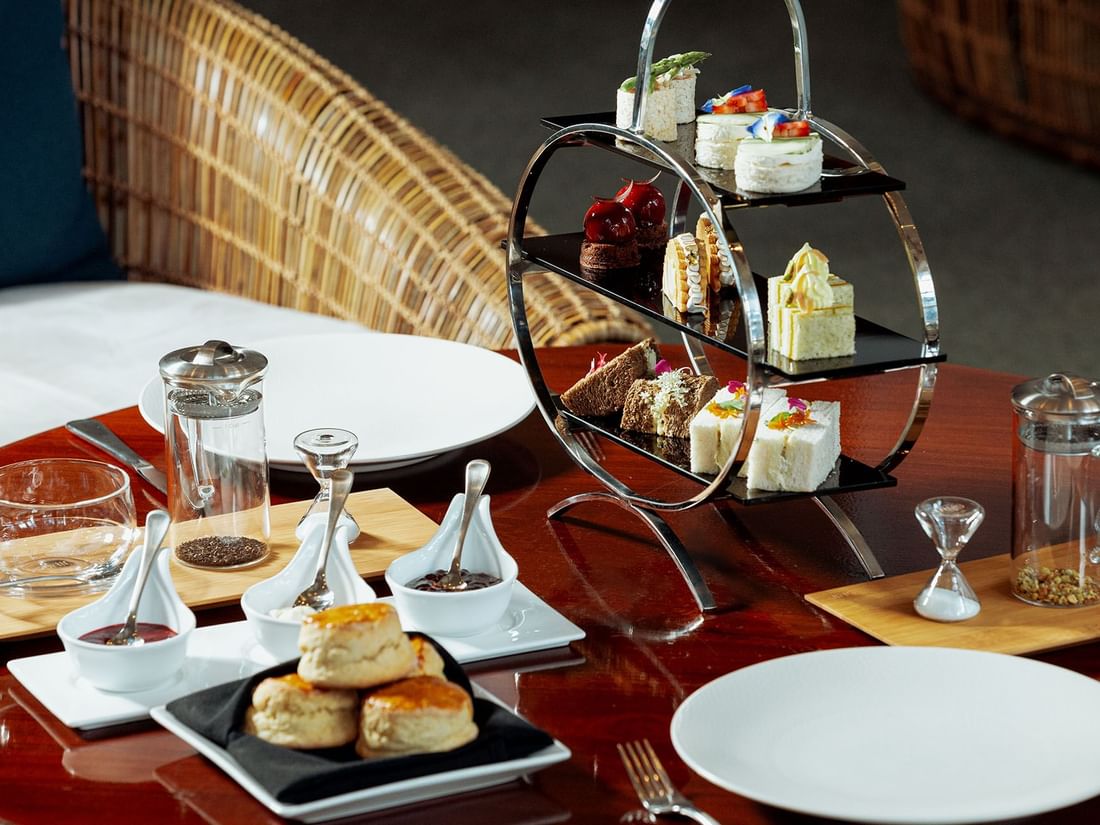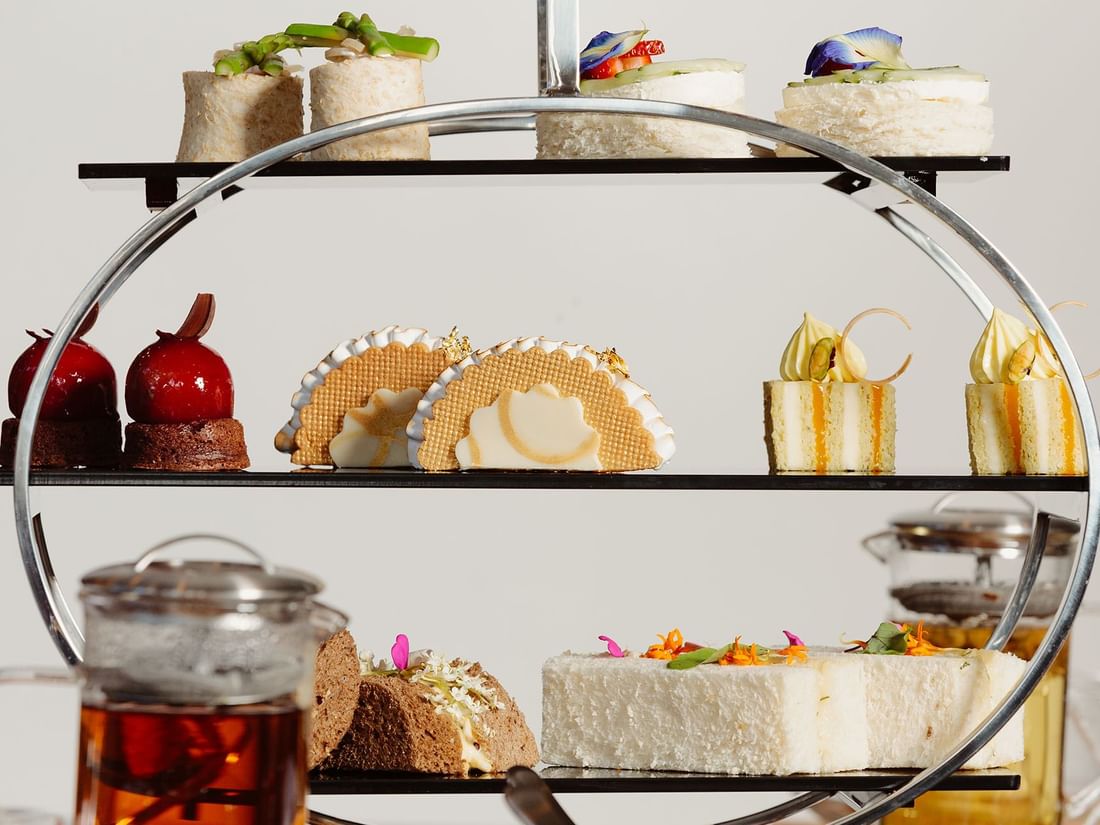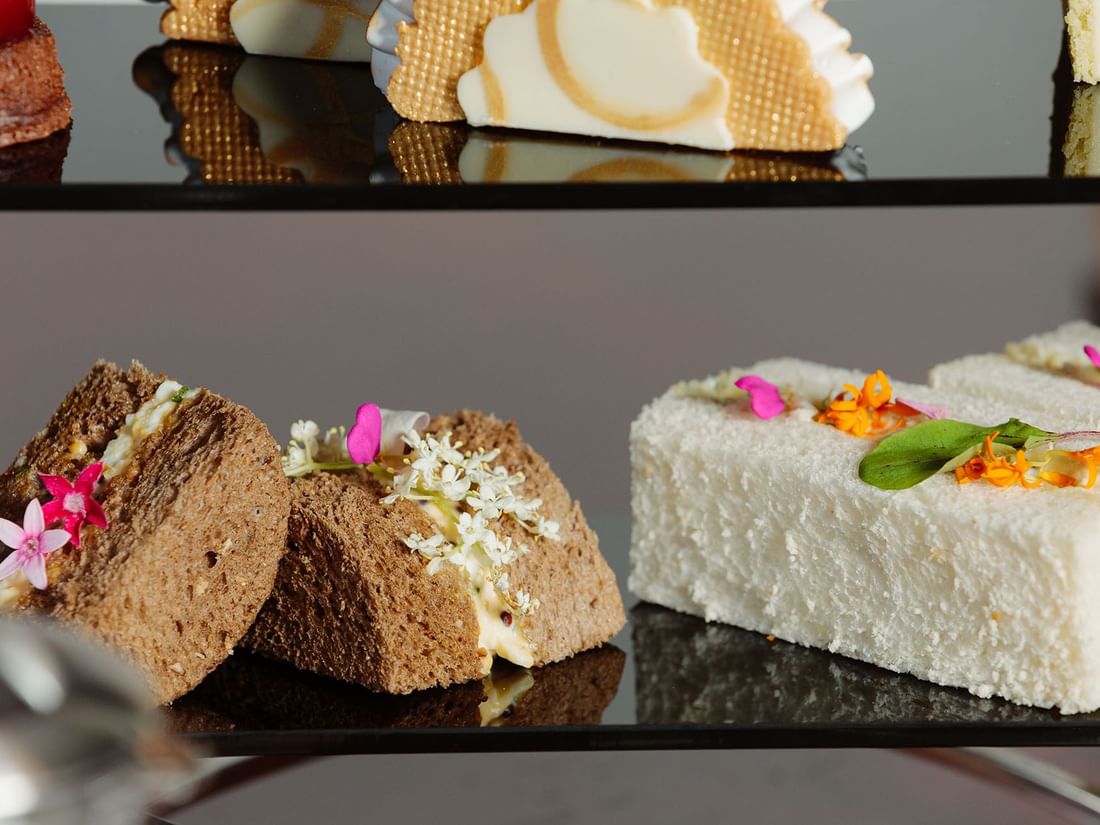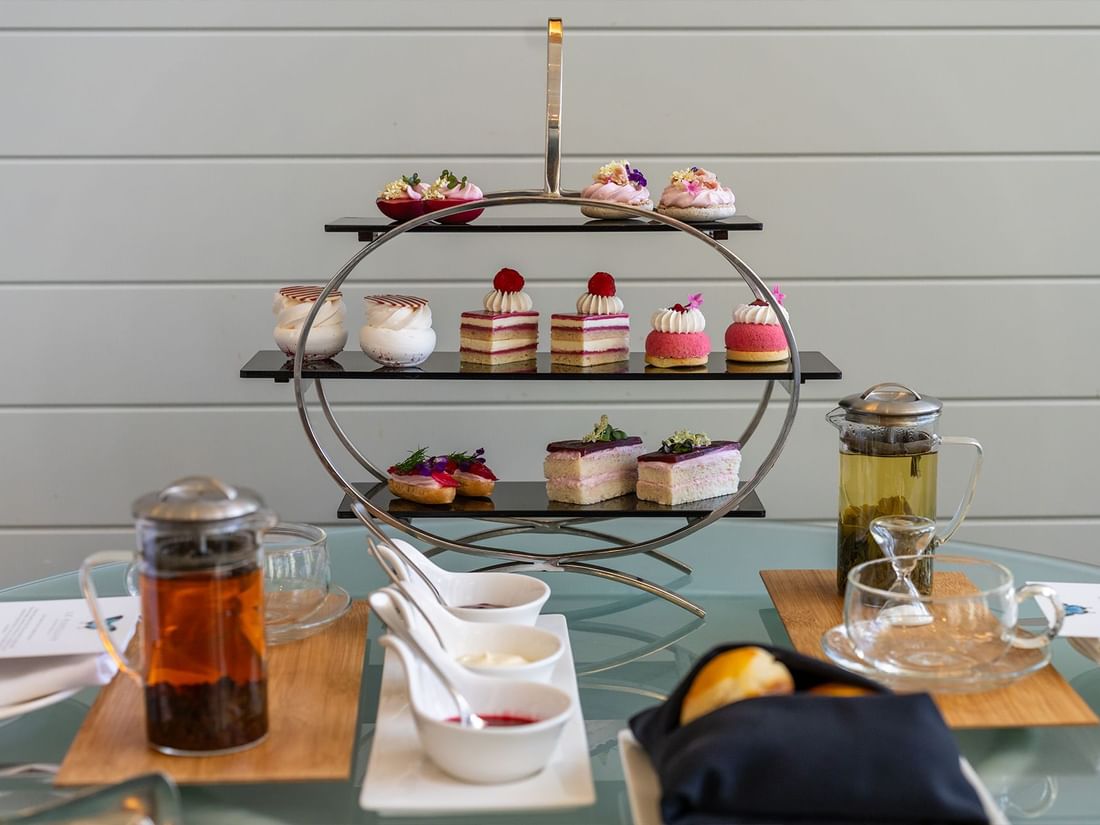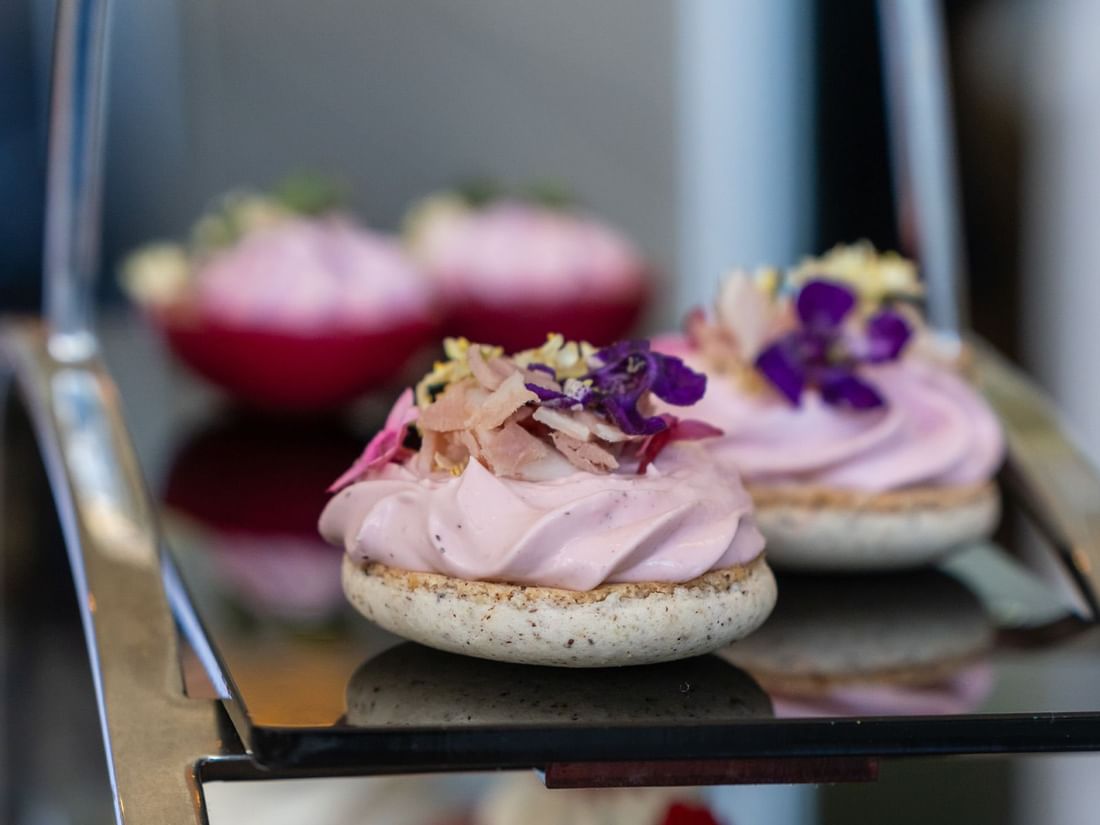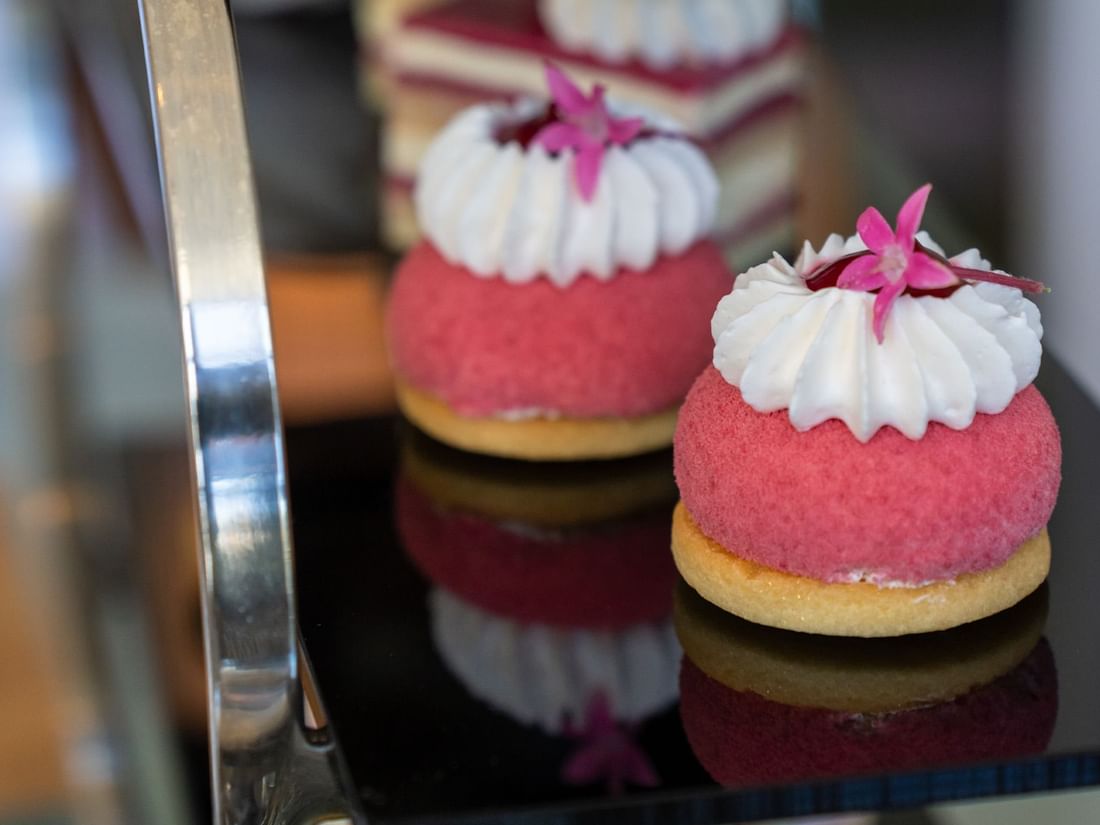 OPENING HOURS
Friday, Saturday & Sunday
11.00am to 2.30pm
Pullman Cairns international has launched two new high tea experiences.
Let us take you on a culinary journey.
Our R.A. Kingsford Signature High Tea is an ode to the classic refinement of a bygone era, presenting an array of bespoke delicacies crafted to perfection. This high tea showcases the artistry and passion of our artisan culinary team, who have selected only the finest and carefully sourced ingredients to craft an unforgettable experience.
Our Le Papillon Seasonal High Tea is a celebration of the changing seasons.
Feel inspired by the graceful Ulysses butterfly and let us take you on a journey to flavours yet unknown. Each visit will bring new surprises and delights, as our culinary team handcrafts each piece using the freshest and most flavourful ingredients of the season.
Our High Tea packages are designed to offer a luxurious sensory experience, starting at $65.00 per person. Immerse yourself in the refined tradition of High Tea with the finest selection of single garden JING tea, carefully chosen from the world's best gardens. Elevate your experience by opting for our exclusive cocktail pairing for an additional $15.00 per person or add a glass of carefully selected champagne for an additional $20.00 per person.
Treat yourself to a sophisticated escape and indulge in the finest pleasures life has to offer.
Le Papillon Seasonal High Tea themes:
PINK HIGH TEA We invite you to join us throughout October & November for our Think Pink themed high tea , a heart-warming afternoon that combines the elegance of Coco's Kitchen + Bar with the powerful symbol of the pink ribbon in support of Breast Cancer Awareness Month. We encourage you to come dressed head to toe in pink to celebrate this incredible cause. We will be purchasing pink ribbons to support the Breast Cancer Awareness Foundation to hand out during the tea. Think pink cakes, pink cocktails and more pink than you could possibly imagine!

CHRISTMAS HIGH TEA Indulge in the magic of the holiday season with a Christmas-themed High Tea experience like no other at Coco's Kitchen + Bar at Pullman Cairns International this December. Unwrap the magic, indulge in culinary excellence, and embrace the enchantment of the holidays in every delectable bite as the iconic hotel transforms into a festive wonderland!
Available from 1 December 2023.

WIZARD HIGH TEA Running through January and February 2024, the Wizard Themed High Tea will transform the iconic Kingsford's Lounge into an enchanting Great Hall showcasing a magical and mystical dining experience. Guests will discover dishes such as Merlin's Delight, Basilisk's Bounty and Tentacle Temptation, inspired by the greatest witches and wizards ever to enchant us.
Click here to book