How to Spend 10 Days in the Tropics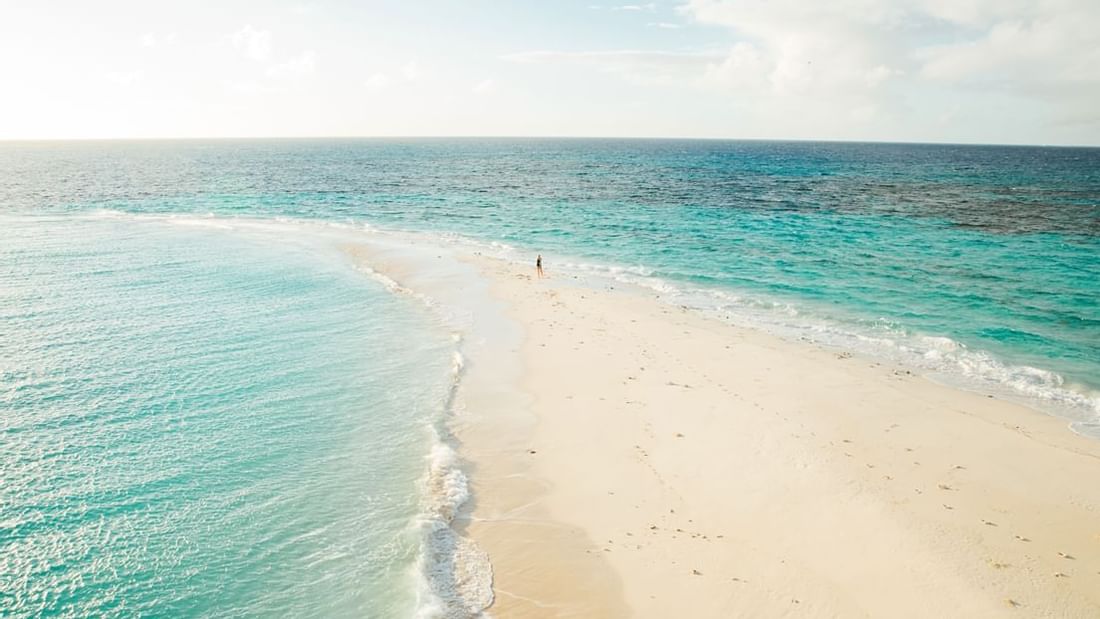 Whether you're seeking rugged adventure, natural wonders, lazy days in the sun, or foodie delights, Tropical North Queensland is an absolute treasure trove of things to see and do and insta-worthy adventures.
From ticking off the bucket list to total 'wow' moments, here are a few not to be missed experiences to make the most of your 10 days in tropical paradise.
DAY 1 + 2
Discover the Daintree Rainforest and Cape Tribulation
When we're talking bucket list experiences, you simply cannot go past the World Heritage-listed Daintree Rainforest. As the oldest tropical rainforest in the world – 180 million years old, in fact – the Daintree is home to some of Australia's most unique and exotic plant and animal life. Just two hours north of Cairns, you could easily take a day trip from the city or spend a few days exploring this ancient beauty.
Located within the Daintree National Park is the beautifully untouched and remote Cape Tribulation Beach, where the rainforest meets the Coral Sea. As inviting as the water surrounding this beach may seem, this region is also home to dangerous stingers and saltwater crocodiles. Be sure to check with your tour guide or locals for the safest swimming spots.
Instagram credit: @australia
DAY 3
Dive into the Great Barrier Reef
Stretching over 2,300km and comprising of 3000 coral reefs, 600 continental islands, and 300 coral cays, the Great Barrier Reef is the largest living thing on earth and no trip to the Tropics would be complete without spending at least one day visiting this amazing natural wonder. Whether you're scuba diving, snorkelling, sailing, reef fishing, or taking in the incredible sights from above on a helicopter or seaplane tour, the GBR is a truly unforgettable experience.
Instagram credit: @lorenzo_underwater
DAY 4
Find paradise on Fitzroy Island
The Great Barrier Reef has a bounty of secluded islands to explore, all just as blissful as the next, and Fitzroy Island is no exception. Surrounded by vibrant reef, colourful marine life, and calm, clear waters, Fitzroy Island is an excellent spot for snorkelling. Here you'll also find Nudey Beach, the perfect picture of tropical paradise, voted Australia's Best Beach in 2018. Although Fitzroy Island is easily accessible via a 45-minute ferry from Cairns, the boats only run a few times a day with limited spots, so the island's sense of seclusion and serenity isn't spoiled.
Instagram credit: @haylsa
DAY 5 + 6
Nosh amongst nature and chase waterfalls in the Atherton Tablelands
Known as the 'food bowl' of Tropical North Queensland, the Atherton Tablelands is a veritable foodie's haven. Amongst the lush green rainforest, wetland, savannah, and farmland, you'll find everything from fresh tropical fruit, to rich coffee, to dairy farms, to distilleries, and much more. Enjoy farm-to-table dining at many of the region's restaurants and cafes, or immerse yourself into the world of produce at the popular Yungaburra Markets.
If you can still move after all that delicious food, head underground to the Chillagoe Caves, where the ancient coral reef has eroded over hundreds of years to create magnificent limestone caves. There are a number of daylight and dark chambers to explore, featuring interesting stalactite and stalagmite formations, and some pretty unusual wildlife, including microbats.
Back above ground, you can spend a sunny afternoon chasing stunning waterfalls along the 17km Waterfall Circuit. Don't miss taking a dip at the majestic Millaa Millaa Falls, which were famously featured on a Herbal Essences ad, where an 18-metre plunge waterfall cascades down into an emerald green lagoon. Just down the road, you'll find Zillie Falls and Ellinjaa Falls.
Instagram credit: @tessaantifave
DAY 7
Conquer the epic Windin Falls Hike
Located in the Wooroonooran National Park in the Atherton Tablelands, Windin Falls is a remote and absolutely jaw-dropping oasis. The hiking trail out to the falls is around 5km / 1.5 hours each way on a potentially muddy (even during the dry season), undulating path. While the trailhead may not be the easiest to find, if you do your research and follow the guides from hikers' past, you'll be rewarded with sweeping rainforest views, and a natural infinity pool at the edge of the cliff where the falls cascade into the valley below.
Instagram credit: @cleocohen
DAY 8
Laze away the day at Palm Cove
After a couple of adventurous days in the Tablelands, it's time to hit the palm-lined beaches of Palm Cove and soak up the glorious Tropical North sunshine. Palm Cove is the perfect place to spend a lazy day in the Tropics, surrounded by never-ending white sand, calm blue waters, green mountains popping up on the horizon, and, of course, palm trees aplenty. This cute little coastal town has just enough restaurants, cafes and shops to keep you amused, while still maintaining its laidback allure.
Instagram credit: @meandmytravelbugs
DAY 9
Journey to Kuranda on the Scenic Railway and Skyrail
Located 1,000 feet above Cairns, Kuranda is a quaint mountain village set high in the rainforest. While you can spend a few hours exploring the interesting cafes, restaurants, traditional pubs, and quirky arts and crafts markets of the town itself, the journey to and from Kuranda is arguably the biggest highlight of this day trip. To get to Kuranda, board the historic Scenic Railway, which winds up the mountains, through dense rainforest and tunnels, over breathtaking bridges, and past spectacular waterfalls and Barron Gorge. On your return to Cairns, experience the rainforest from above as you soar along the 7.5-kilometre Skyrail Rainforest Cableway. The Skyrail stops at two stations along the way where you can disembark to explore the different rainforest trails, including another impressive viewpoint of Barron Gorge and Falls.
Instagram credit: @tropicalnorthqueensland
DAY 10
Relax at Vie Spa and MOKU Beach Club
After a few jam-packed days of adventuring, sightseeing, and ticking off your bucket list, it's time to treat yourself to some well-earned R&R back in Cairns. Soothe those aching muscles with a massage, reenergise with a facial or beauty treatment, and set yourself to total Zen-mode at the city's best day spa, the award-winning Vie Spa at Pullman Cairns International.
Once you're feeling relaxed and rejuvenated, head to MOKU Beach Club at Novotel Cairns Oasis for an afternoon of luxurious lazing. Enjoy Cairns' only swim-up bar in the sparkling blue lagoon, kick back in a cabana, and savour the last golden sunset of your vacation in the Tropics ­ – cocktail in hand, of course!
Instagram credit: @novotelcairns
Brittany Herron is a freelance travel and lifestyle writerand content creator. When she's not between her twohomes of Newcastle and Adelaide, Brittany is anadventure-seeker, wandering the globe in search ofsun, snow, and sand.