Dive into some unique reef experiences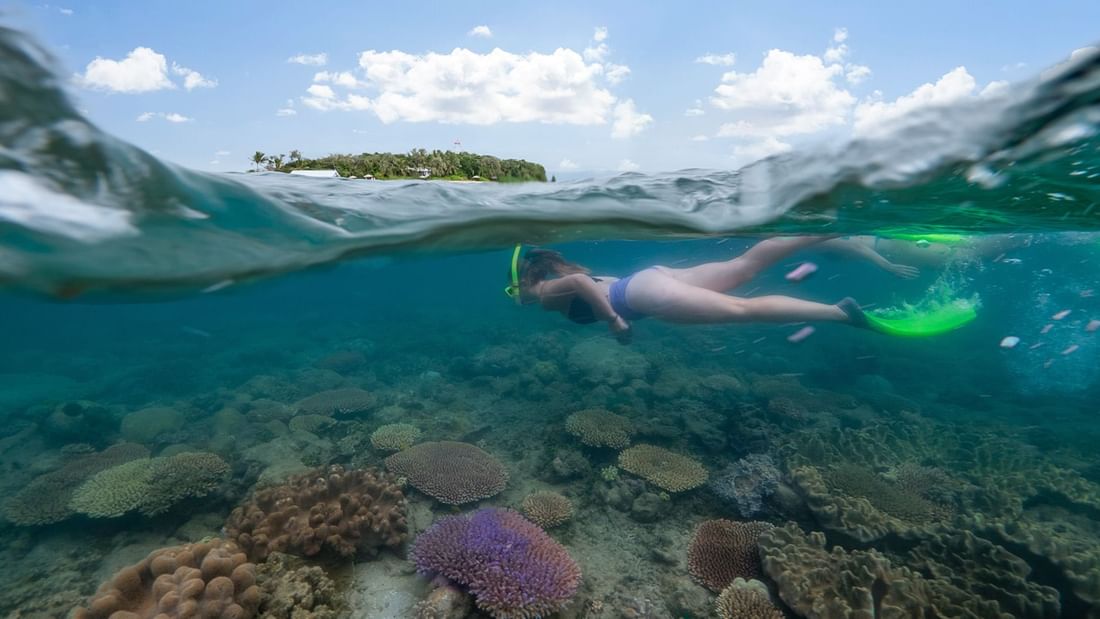 The Great Barrier Reef doesn't need to impress, it wows by nature.
Turquoise waters, vibrant corals, pristine sandy cays — it's heaven on Earth.
If the reef is on your must-visit list, why not do it differently? There are some unique and inspiring experiences to discover when you dive a little deeper.

Dreamtime reef snorkel
Dreamtime Snorkel is a unique adventure into the world's oldest living culture and Australia's amazing sea life.
Grab your complimentary snorkel and fins and learn more about the indigenous reef creation story as you head to the open ocean. This eco-certified tour takes in two stunning outer reef sites. Possible stop-off points include Milln, Flynn and Hastings.
Explore underwater, listen to more stories and watch traditional dances. You can even do some native bush tasting before lunch.

Swim with dwarf minke whales
The reef is the only place in the world where you can swim with dwarf minke whales. Don't miss your chance.
There's no other encounter quite like it on Earth. Don a wetsuit and snorkel, slip overboard and immerse yourself in an ethereal underwater world.
Watch as these graceful creatures glide and play below you — their almost fluorescent bodies reflecting the sunlight. Listen to their otherworldly call. When you meet eye to eye, the connection is real.

Helicopter ride and picnic on a coral cay
Hop on a chopper and head to paradise. There's no better way to spend a day than a gourmet picnic for two on a secluded coral cay.
The ride to your destination will take your breath away as you gaze at the shimmering waters below. Soak it all in as you soar with the birds.
When you arrive, pop a bottle of sparkling and enjoy a gourmet hamper on your stunning white atoll. Cool off with a swim and snorkel.

Sleep on the reef under the stars
Visiting the reef by day is one thing — by night, it's something else. On a two-day/one-night tour, you can witness this wonderful shift.
Notice how the laughter and splashes turn to serenity and calm as the day groups leave and dusk falls over the Pacific. Nature's true state has been restored.
Enjoy a sunset drink and evening meal before retiring to your cosy bed. It's only you, the ocean and the night sky. Relax into the sleepy lull before waking to an unhurried sunrise snorkel.



After unique adventures exploring the reef, head back to the Pullman Cairns International to another world of unique, inspiring experiences.

Image: Tourism Tropical North Queensland