Discover Cairns: A Guide to the Top 10 Attractions and Surroundings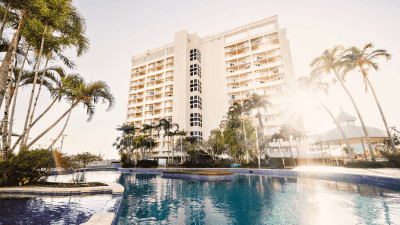 Nestled in the tropical haven of North Queensland, Australia, Cairns beckons with a captivating blend of natural marvels and cultural delights. From the renowned Great Barrier Reef to verdant rainforests and the lively local culture, Cairns and its environs promise a diverse array of experiences for every traveller. If you're mapping out your journey, here's a compilation of the top 10 must-visit attractions to weave into your Cairns itinerary.
Great Barrier Reef
Unveil the wonders of the world-famous Great Barrier Reef, the planet's largest coral reef system. Immerse yourself in its vibrant marine life and stunning coral formations through activities like snorkelling, scuba diving, and reef cruises.
Daintree Rainforest
Head north from Cairns to explore the ancient Daintree Rainforest, one of Earth's oldest rainforests. Navigate through lush greenery, trek dense jungles, and engage in guided tours to unravel the secrets of its unique flora and fauna, including the elusive cassowary.
Kuranda Village
Known as the "Village in the Rainforest," Kuranda is a charming enclave nestled in the lush rainforest. Accessible via the scenic Kuranda Scenic Railway or Skyrail Rainforest Cableway, it offers local markets, wildlife sanctuaries, and cultural experiences at the Tjapukai Aboriginal Cultural Park.
Atherton Tablelands
Just a short drive from Cairns, the Atherton Tablelands showcase rolling green hills, waterfalls, and picturesque lakes. Visit Millaa Millaa Falls, Atherton, and Lake Eacham to bask in the region's breathtaking natural beauty.
Fitzroy Island
Embark on a brief ferry ride from Cairns to Fitzroy Island, a tropical haven boasting crystal-clear waters, rainforest trails, and superb snorkelling. The island provides a serene escape from urban hustle, with options for full-day tours, snorkelling excursions, transfers, or half-day trips.
Cairns Esplanade
Indulge in a leisurely day at the Cairns Esplanade, a waterfront promenade featuring a saltwater lagoon, barbecue areas, and a variety of cafes and restaurants. Ideal for a relaxed stroll or a refreshing dip in the lagoon.
Barron Gorge National Park
Situated just outside Cairns, Barron Gorge National Park is home to the magnificent Barron Falls. Traverse walking trails that unveil breathtaking viewpoints of the falls and the surrounding rainforest.
Tjapukai Aboriginal Cultural Park
Immerse yourself in Australia's Indigenous culture at the Tjapukai Aboriginal Cultural Park. Engage in traditional dances, explore indigenous art, and delve into the history and customs of the local Tjapukai people.
Cairns Aquarium
Uncover the marvels of the underwater world at the Cairns Aquarium. This interactive attraction showcases the diverse marine life of the Great Barrier Reef and surrounding waters.
Paronella Park
Step back in time at Paronella Park, a heritage-listed site featuring the ruins of a Spanish-inspired castle surrounded by lush gardens and waterfalls. It stands as a unique and romantic locale for exploration.
Cairns and its surroundings unveil a treasure trove of natural beauty, cultural richness, and outdoor adventures. Whether you seek the depths of the Great Barrier Reef or the mysteries of ancient rainforests, Cairns promises an enchanting journey to create memories lasting a lifetime. Plan your visit to this tropical paradise and embark on an unforgettable adventure.