Discover Cairns' best conference venue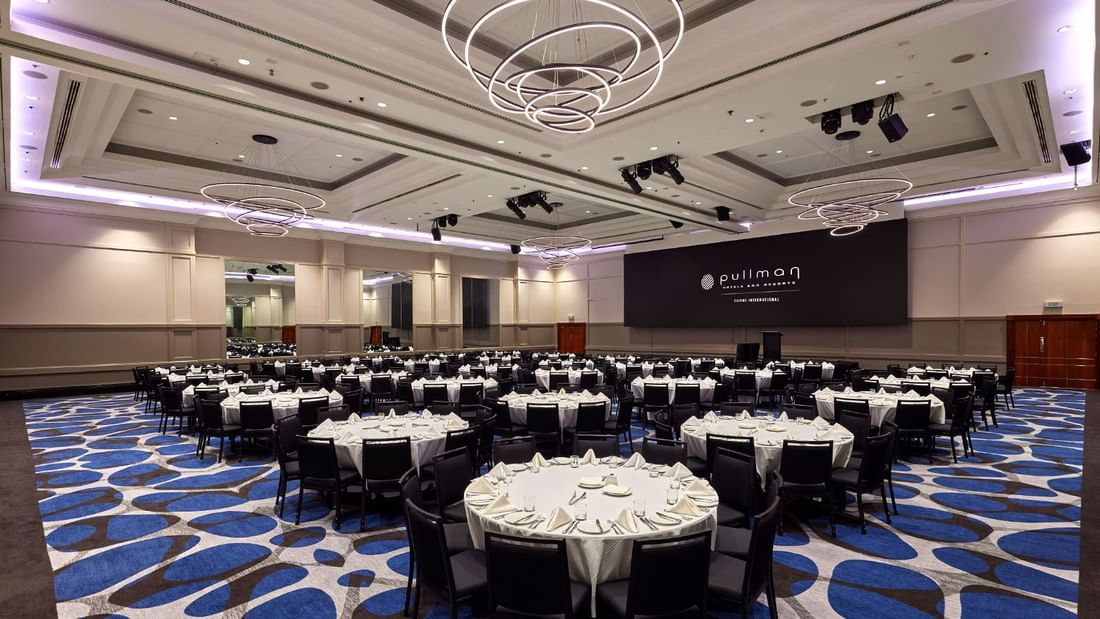 Business meeting, event or conference to plan? Think Pullman Cairns International.
From our Grand Ballroom to private boardrooms, we're the best venue in town — and we've recently renovated.
Onsite theming. Audiovisual packages. Delicious refreshments and menus. We do it all. We're also right in the CBD and located only 8km from the airport.
On top of the practicalities, our tropical vibe and accommodation always inspire attendees — whether sharing, networking, or innovating are on the agenda.

Grand Ballroom (and Grand Foyer)
Ground floor
650 theatre/350 banquet |270 theatre/175 banquet
If you want to impress, 500 square metres of high ceilings, chandeliers, and top digital tech should do the trick. Numbers not quite up there? Split it into two and choose the beautiful Kuranda or Mossman Ballroom instead.

Tully I, II and III
Ground floor
100 theatre/60 banquet | 80 theatre/50 banquet | 60 theatre/50 banquet
If you're after flexibility, Tully ticks the boxes. This trio of meeting rooms can be booked as one or opened up into a bigger two or three-room space. Want aperitifs before a large-scale Grand Ballroom event? Start here.

Bluewater I and II
Level one (overlooking the grand lobby)
80 theatre/50 banquet
A stylish meeting room duo. Choose a single space or open them into a single area. The beautiful three-storey high windows in the lobby fill the pre-function area with natural light. So say goodbye to fluorescent light lethargy.

Rosser
Level one
40 classroom/30 conference/24 u-shape
Private and perfectly fit for purpose, that's Rosser. It's suited for small to medium-sized meetings. It's also a good lunch or break-out room for Bluewater I and II. The pre-meeting area is the same one overlooking the Grand Lobby.

Agincourt
Level one
16 conference/14 u-shape
When board or secretariat meetings call, Agincourt delivers. This small lockable room offers privacy for those sensitive discussions. It also boasts an extra space to the rear, complete with leather couches — a little additional luxury for the execs.

Boardroom I and II
Level two
24 conference/ 20 u-shape | 35 classroom/28 conference/24 u-shap
Executive briefing or smaller meeting? Our boardrooms are sure to impress. Classic style? Tick. Heritage furniture? Tick. They're also set in a quiet location to ensure you don't get disturbed. You even have your own private toilets.

Kingsfords
Level two
100 cocktail/80 banquet
A stunning naturally lit gallery overlooking the Grand Lobby and down to the Grand Staircase. The lounge has a private bar area, access to the level two kitchen and plush furnishings. It's ideal for dinner events and product launches.




Once you've worked hard, it's time to play hard. Attendees staying at the Pullman Cairns International can relax by the pool, head to the gym or visit the Vie Spa.