A Cultural Feast For The Eyes: Where to find Cairns' coolest art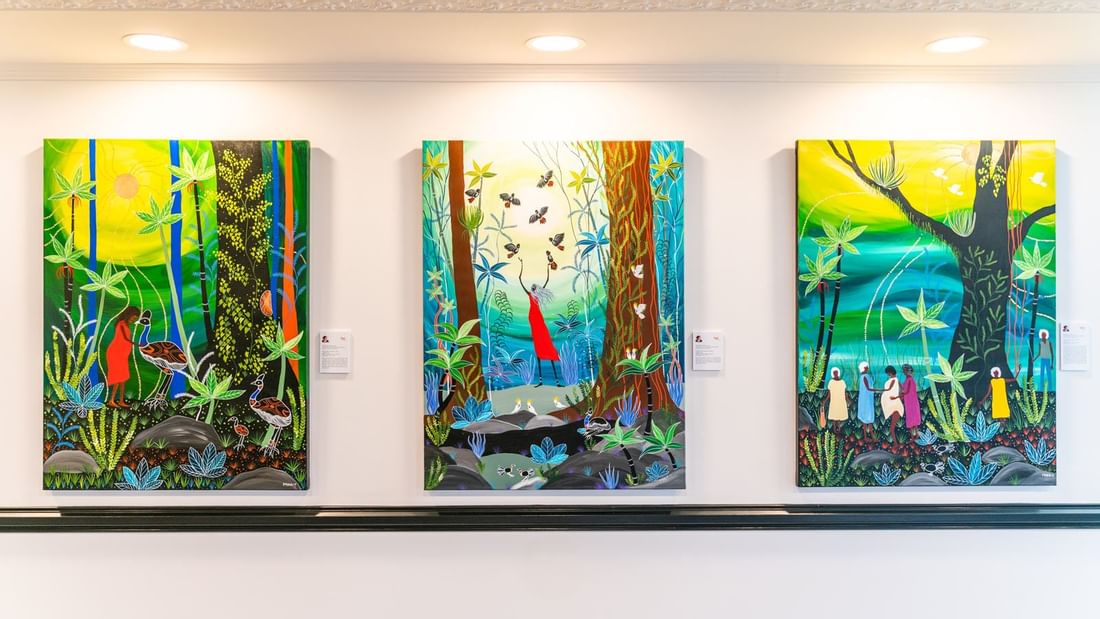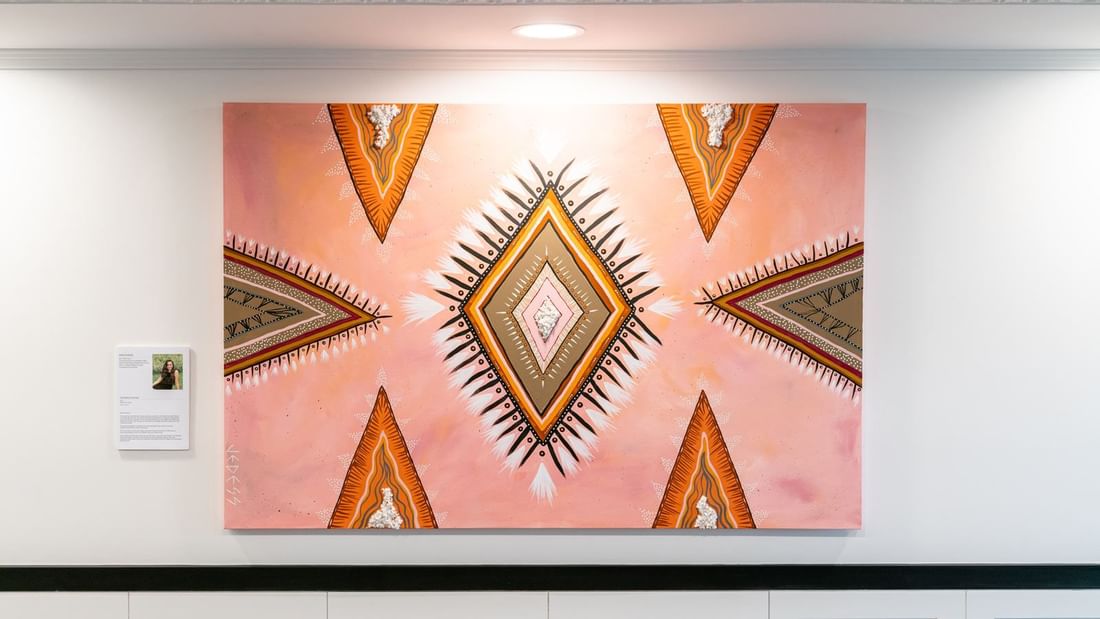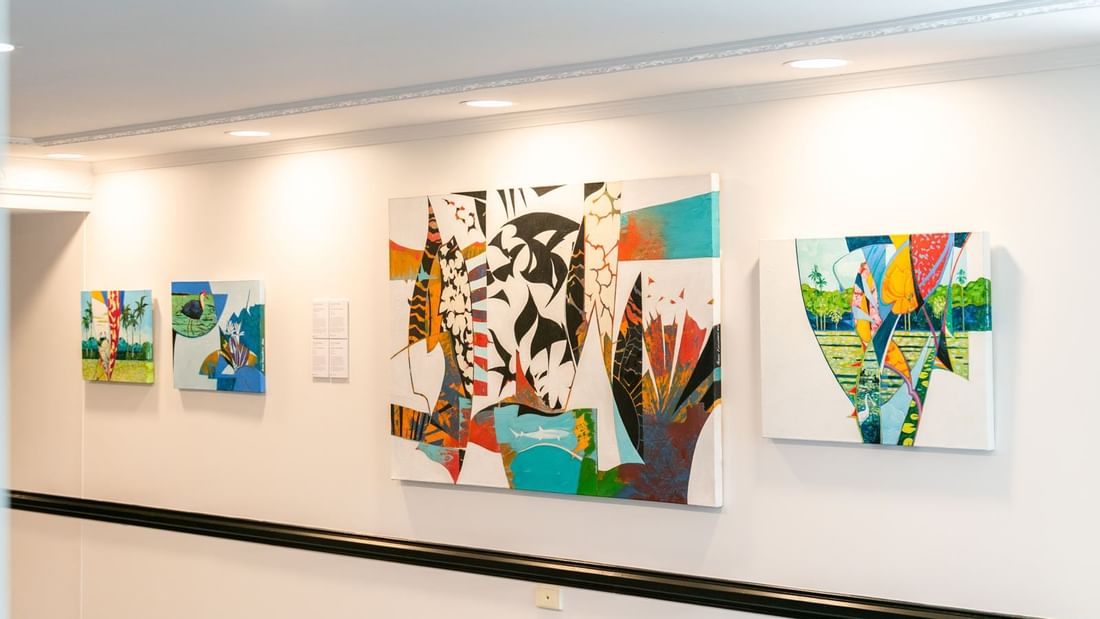 As if Cairns wasn't good-looking enough already, the tropical north is a hub for talented artists whose sole mission is to make it prettier with creative masterpieces. Indoors and out, plastered on walls, underfoot in pedestrian areas, laneways, galleries and hotel foyers, Cairns is a kaleidoscope of colourful art designed for eyes to feast on and hearts and minds to connect with.
To get you out and about in search of these epic canvases, we've scoured the streets to bring you some of Cairns' best places to get your art fix. Our tip? Open Google Maps, plan the perfect route around the streets of Cairns and seek out some eye candy, stat.
Esplanade Art
Have you even been to Cairns if you haven't selfied with the Lagoon Fish? Cairns artist Brian Robinson inadvertently created the visual theme of the Cairns Esplanade when he designed five stainless steel woven fish sculptures for the Lagoon in 2003. Now symbolic of Cairns and the Great Barrier Reef, they have been beamed around the world by millions of visitors.
Tanks Art Centre
One of the best examples of urban recycling, the Tanks Arts Centre is a contemporary arts facility in three converted WWII naval oil storage tanks on the edges of the Cairns Botanic Gardens. With a greater community need for more arts space and associated facilities in the city, the area was redeveloped by Council and is now on the State Heritage Register. This spot is a premier venue for live music for touring international and local artists, youth arts programs, exhibitions and cultural experiences.
Kgari 3 Sisters
Kgari 3 Sisters art gallery is operated by acclaimed artists Susan Reys and Hendrick Fourmile. The gallery features works by local indigenous artists in a wide range of mediums from acrylic paint to ochre on canvas, jewellery, pottery and ceramics. Artworks beautifully depict family history and bloodline and continue their people's ancient tradition of painting and storytelling.
Cairns Laneways
Hey there, Melbourne laneway art… hold our beer. The team at local coffee hang, Caffiend, are big fans of street art culture and have worked to repurpose a section from Lake St to Grafton St as a passageway of art. The graffiti wall has attracted artists both locally and from around Australia to place their mark. It has also brought countless selfie-taking tourists, boosting business and appreciation for the arts.
Speaking of street art culture... Cairns boasts a huge amount of street art and larger than life murals for such a small city. Many within a short walk from Pullman Cairns International, including 2 at the Harly Street car park, just behind the hotel. Checkout the SeaWalls project and be sure to take alook at the Google Map at the bootom of the page.
The cornerstones of our hospitality ethos include culture and connectivity to the region. Here at Pullman Cairns International, we want to make art accessible, inclusive, conversational, and empowering. Within the hotel, you'll find featured local Cairns artists on each floor, as well as beautifully designed welcome gifts and welcome amenities delivered on arrival with some of our packages. From glorious reef and rainforest depictions from Melanie Hava (Level 7) to more abstract indigenous art from Netta Loogatha, our floor foyers are an ode to tropical art.
Where are your favourite spots to see local street art in the tropics?
Limited Time Offer
A Taste Of Luxury to experience the best of immersive art and design at the new look Pullman Cairns International. Stay 2 nights from $500 for 2 adults and save 20%
Inclusions:
2 nights in a newly refurbished room
Welcome gift – Water bottle featuring the artwork of Melanie Hava
Welcome amenity – Dessert inspired by the artwork of Melanie Hava
Free car parking