6 Reasons to Hop on a Flight From Perth to Cairns Asap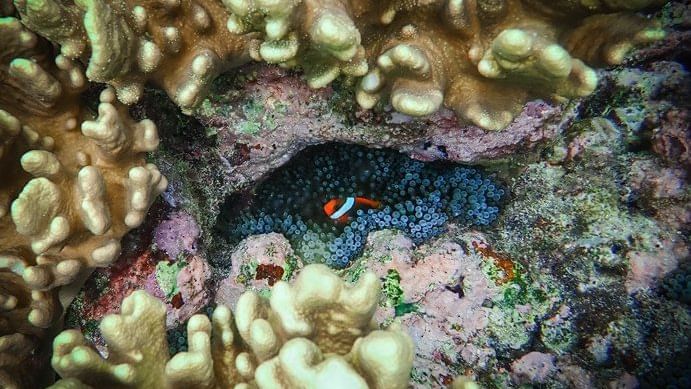 Look don't get us wrong, we love Perth. We could spend days getting lost in Kings Park, people-watching at Cottesloe beach or road tripping down the coast to sample some of those famous WA wines. But with state borders opening up and Jetstar restarting their Perth to Cairns route in early December, there's no excuse not to head East for your next holiday. Here's just a few reasons why you should leave the big city behind and escape to the peaceful, playful Tropical North:
No passport necessary

With those easy Perth to Bali flights still out of reach, a trip to the Queensland tropics might just be the next best thing. Just 10 minutes from the airport is Pullman Cairns International where you can drop your bags and head straight to the palm tree laden pool to soak up the sunshine in 30 degrees.
Or to enter ultimate relaxation mode, book a full-body massage at Vie Spa Pullman Cairns International.
For those that miss that Durian-tinged market smell, an afternoon is easily spent at Rusty's Markets, an open air maze where local farmers hawk exotic fruits next to craft kombucha and french patisserie stands. And adventure-seekers will feel right at home on a horseback excursion with Cape Trib Horserides, where you'll ride through rainforest canopies and onto one of the regions most majestic beaches.
Experiences for every kind of adventurer
Speaking of adventure, there is no shortage of blood-pumping activities to experience in Cairns and the surrounding area. Adrenalin junkies will want to book in for an afternoon at AJ Hackett, the only bungy jump in all of Australia that just so happens to be a few minutes north of the airport. For those who are less inclined to freefall from a 50m tall tower, there's plenty of adventures to be had at sea level. Barrel down rapids of all grades on a rafting excursion down the Barron River, rent a bike and take on the Smithfield Mountain Bike Trail Park, or book a kitesurfing lesson with Windswell at Port Douglas' iconic Four Mile Beach.
We've got good beer

The West has long been big on the craft-beer scene, but in recent years Cairns has given Perth a run for its money. The daddio of TNQ craft-brew, Hemingway's marina-side breweries in Port Douglas and Cairns have hefeweizens, XPAs and middies to suit any palate and are a must-do after a trip out to the Reef. There are plenty of smaller micro-breweries to check out as well. Barrier Reef Brewing Co slings coffee infused amber ales from Two Turtles Tap Room, Macalister Brewing has a roster of local-food trucks on rotation to soak up their Aussie-style pale ale, Coral Sea is a laneway gem, and NSW heavy-hitter Sauce just opened up a spot down the road. Um, did someone say beer crawl?
Keep the kids busy

The Tropical North is the perfect place to entertain antsy kids over school holidays. Younger kids will love seeing the real Dory and Nemo on a glass-bottomed boat tour of the Great Barrier Reef or at the Cairns Aquarium.
The more adventurous set will go wild for ZOOM, where visitors can get up close and personal with native rainforest animals on a challenging ropes course through the Cairns Wildlife Dome. If the little ones are more into locomotives, then hop aboard the Kuranda Scenic Railway for a train ride through the dense rainforest foliage and past spectacular waterfalls.
See how it's made

Drive an hour inland from Cairns and you're in the Tablelands, where a handful of artisan food and drink makers are dotted amongst the avocado and banana farms. Coffee lovers will appreciate a tour and tasting at Skybury Café and Roastery or Jacques Coffee Plantation, while tea-drinkers will love a look at the Nerada Tea factory.
Shaylee Strawberries, where (during the cooler months) visitors can wander amongst the berry plants and pick fruit to take home. For something a little stronger, designate a sober driver and spend an afternoon at the Mt. Uncle Distillery tasting room, where knowledgeable guides will talk you through a flight of gins, vodkas and rums of your choosing. You can soak it all up with a cheese plate at Mungalli Biodynamic or Gallo Dairyland, where you can visit with the cows and peek at the factory before sitting down to indulge.
The most wonderful time of the year

Flight routes reopening couldn't have come at a better time. Though Cairns' busiest season trends towards the cooler winter months, there's a reason locals stick around to embrace summer.
With the therapeutic summer rain comes the "green season," a time when the grass is verdant and the tropics truly come to life. There's no better time to visit the Daintree Rainforest, where the fan palms seem to stretch a little higher and the place seems to take on an even more other-worldly Jurassic feel.

There's so much more we could tell you about (don't even get us started on the amazing road trips you can take around the region), but why not just come here and find out for yourself? Flights from Perth to Cairns re-start on December 2nd, but are available to book now.