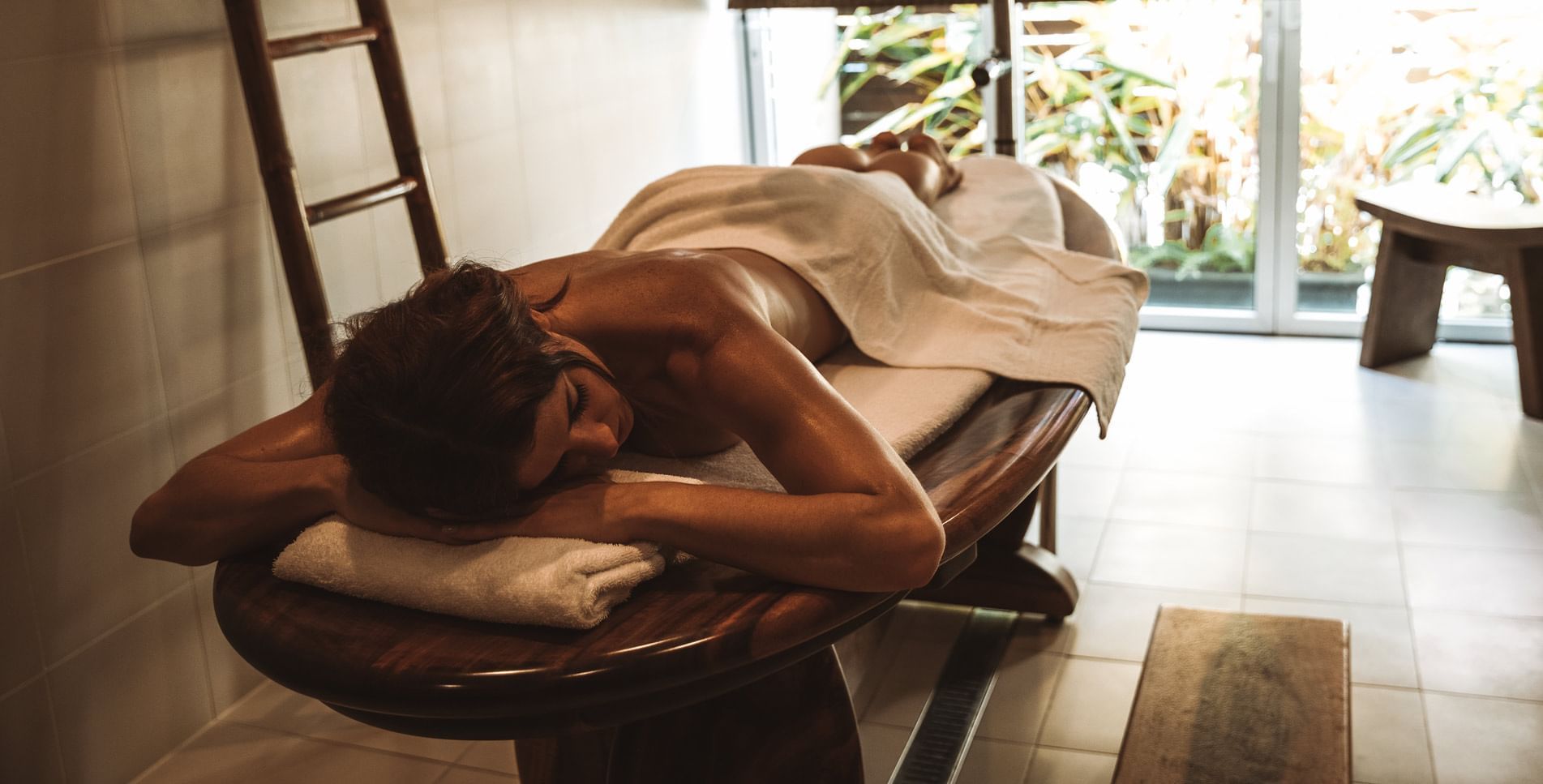 Vie Spa
at Pullman Cairns International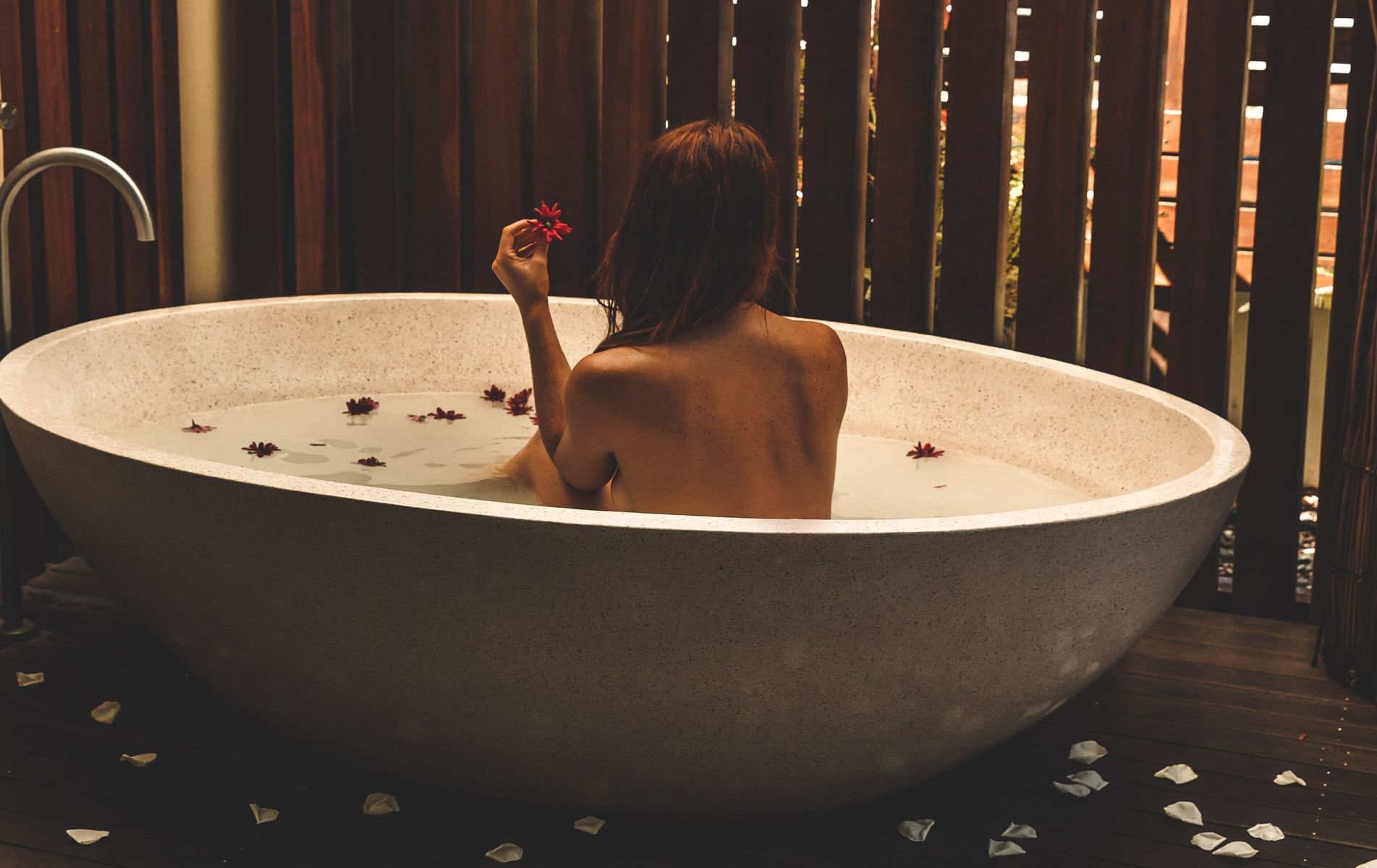 Welcome To Vie Spa
Pullman Cairns International
VIE SPA AT PULLMAN CAIRNS INTERNATIONAL
ESCAPE AND UNWIND
Relaxation can be a challenge, whether you're unwinding during a vacation, attending a conference, or travelling for business, even in one of the most naturally stunning locations on Earth. At Pullman Cairns International, Vie Spa stands out as the premier day spa in Cairns, offering an award-winning sanctuary of peace and tranquility for our hotel guests, as well as locals and visitors alike. Our team of world-class, certified Vie Spa therapists is ready to guide you through a diverse selection of massages, skin treatments, facials, beauty services, and relaxation therapies designed to help you rejuvenate, de-stress, or integrate into your regular self-care routine.
All of our treatments and services take place in one of our ten exquisitely appointed, private spa suites. Our recently upgraded spa facilities include private rooms, a couple's retreat, a group therapy space, distinctive indoor/outdoor treatment areas, and a vichy shower. Throughout your Vie Spa journey, immerse yourself in our Serene Sanctuary, where you can clear your mind and conclude your visit on a high note with a warm tea and refreshing sorbet. We are also pleased to offer personalised spa packages and catering services tailored to your specific requirements, whether for intimate gatherings or as a delightful addition to your bridal shower.

For a list of our special services please see our spa menu.
FOLLOW US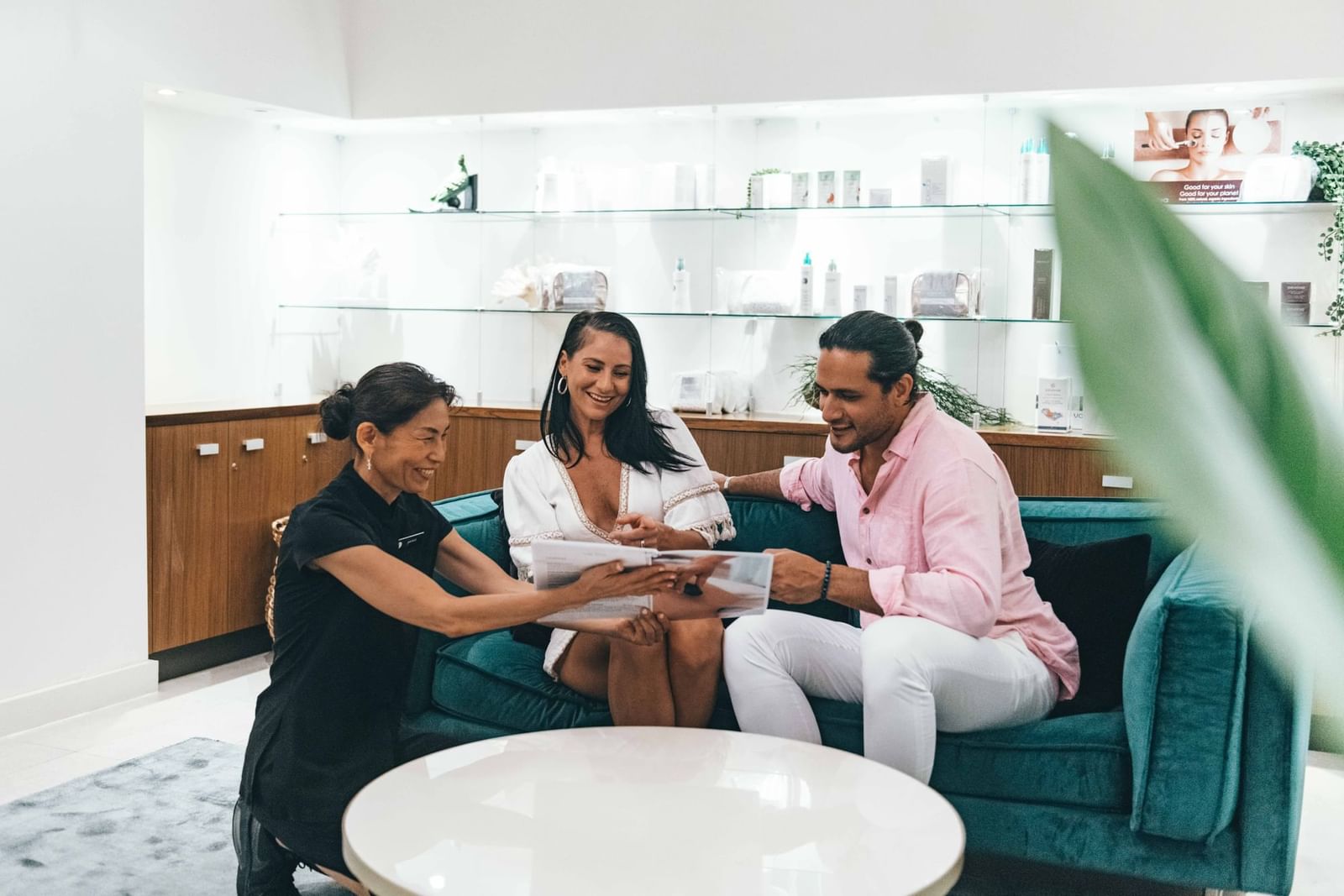 VIE SPA CAIRNS
At Pullman Cairns International - Level 2
Vie Spa stands out as the premier day spa in Cairns, offering an award-winning sanctuary of peace and tranquility.
Bookings at Vie Spa at Pullman Cairns can be made via the Booking Link
GROUP BOOKING / ANY OTHER ENQUIRY

Opening Hours
Monday to Saturday: 9am - 5pm
Sundays & Public Holidays: CLOSED
T: +61 7 4050 2124
E: H8772-TH@accor.com

FOLLOW US
SEASONAL SPECIAL OFFER
Vie Wellness Ritual
2 HRS | $385 (Valued at $490)

Includes
Full body mineral salt scrub
Marine mineral body wrap with bergamot hydrating cocoon
Balance & Calm or Muscular Wellness massage, upgraded with marine magnesium
Bookings are essential
BOOK ONLINE
VIE SPA EXCLUSIVE OFFER
Step into Vie Spa at Pullman Cairns International for a chance to wind down and relax with this exclusive offer.
Choose any one of the three rituals below:
75 mins | $235 per person (valued at $285 per person)

Revive:
Rainforest Foot Ritual
Aromatic Back Massage
Deeply Hydrating Hair Cocoon

Embrace:
Body Brush & Warm Hydrating Cocoon - finish with Body Souffle
Petite Organic Facial
Deeply Hydrating Hair Cocoon

Rest:
Renewal Body Massage
Cooling Foot Mask
Quandong & Bergamot Heated Scalp Cocoon
Bookings are essential
BOOK ONLINE
TIME FOR YOU
Offer only Sundays
2.5 hours / $450 (valued at $528) - Includes surcharge
Revitalise full body scrub
Balance & Calm OR Muscular Wellness Massage
Upgrade with Marine Magnesium
Couture Facial + Hydratng Hair Cocoon
Glass of champagne
Bookings are essential
BOOK ONLINE
Pevonia Skin Care (including the Lumafirm range):
Pevonia's most powerful ingredients come from the safest source…nature. By uniting the latest in advanced manufacturing and delivery systems, Pevonia delivers superior results and radiant skin to every skin type. Pevonia offers powerful, customized skin care solutions that really deliver. High performance in-spa treatments and at-home protocols address very unique skin concerns with unparalleled success.
ELES Cosmetics:
Sourced from nature, fused with science… Skin life-sustaining minerals, the purest elements of the earth, are essential to the ELES line. Micronized minerals protect and correct skin without irritation. Minerals are a chemical free sun-block, naturally shielding the skin against damaging ultra- violet light. ELES mineral makeup allows skin to 'breathe' freely while against age aggressors. Every product is free of heavy fillers and pore-clogging ingredients. Our skin-safe formulas contain no potential irritants, such as fragrance oil, talc and dyes. Every formula is hypoallergenic and oil-free.
iKOU:
Pure, natural ingredients that are ethically sourced. 100% natural wax candles, botanical skincare and lifestyle products.
Whether you'd like to relax and enjoy a completely soothing massage utilising essential oils and gentle relaxation music in one of our award winning treatment rooms, or have your skin exfoliated, tanned, buffed and beautiful, Vie Spa will make you feel like a million dollars.
If you have any questions about treatments, products or spa therapies in general, please speak to our friendly Spa therapists: +61 7 4050 2124 or email H8772-TH1@accor.com.
Pre-booking your treatment is essential so we can best accommodate your needs. Please check-in at Vie Spa Pullman Cairns International at least 20 minutes before your scheduled appointment to ensure you have adequate time to change into your robe and slippers, enjoy a herbal tea or refreshing drink before your treatment.
Bookings are essential
BOOK ONLINE
Arrival
We recommend you arrive at Vie Spa Pullman Cairns International 15 minutes prior to your appointment, to allow yourself time to complete your consultation form and explore our calming surroundings. Whilst we will always try to accommodate your treatments in full, we would hate for your treatment to be cut short due to your late arrival.
Attire
Please wear whatever makes you feel comfortable. Upon arrival you will be provided with a robe, disposable slippers, and towels. Disposable underwear will be available for body treatments.
Cancellations
We understand that sometimes you may need to change your schedule. We kindly ask you give us a minimum of 24 hours notice. Appointments cancelled within 24 hours will incur a 50% cancellation fee. Appointments cancelled within 4 hours or no-shows will incur a 100% cancellation fee.
Younger Guests
Guests under the age of 16 must be accompanied by a guardian. Treatments are subject to suitability and availability. Please discuss options with Spa Reception prior to booking.
Health
Our priority is your wellbeing. Please inform your therapist if you have any known medical condition that may affect your treatment. We reserve the right to electronically check temperature before guests enter the Spa.
Pregnancy
Our caring team will adapt many of our treatment offerings to suit pregnant and nursing mums. For your peace of mind, we advise treatments to be taken after 1st trimester. Please notify Spa reception at the time of booking.
Prices and Service
All our Spa offerings and prices are subject to change without notice.
Serenity
Please help us to maintain serenity by turning off mobile phones before entering.
Social Distancing
Please respect any social distancing measures in place within the Spa. We will notify you on arrival of up to date procedures in accordance to government regulations.
Spa Cuisine
Please talk to our Reception regarding our seasonal delicacies.

*24 hours pre-order required.
Valuables
Whilst lockers are provided for you, we recommend you leave all valuables in your room as we do not assume any liability for loss or damage of any kind.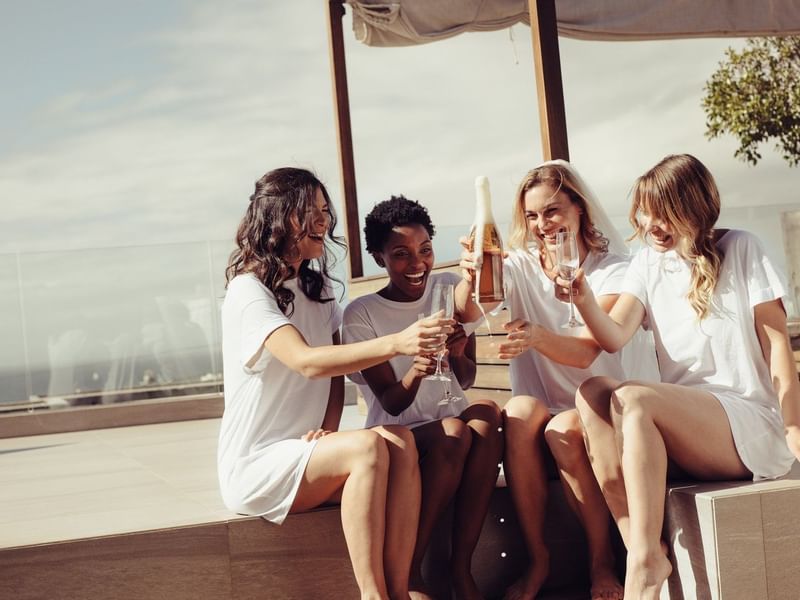 Bridal Celebrations
The ideal celebration for hens parties, bridal showers or pre-wedding groups needing some indulgence leading up to the big day.
Begin with a glass of sparkling on arrival.
Then, simply select 2 or 3 treatments from the options below:
Any 2 treatments (60 minutes) $190 per person
Any 3 treatments (90 minutes) $240 per person
Petite Facial
Aromatic Back Massage
Deeply Hydrating Hair Cocoon
Lower Leg Massage & Cooling Foot Mask
Our gorgeous High Tea can also be pre-ordered and enjoyed by your group in the spa or in the grand lobby of Coco's Kitchen + Bar. A fine selection of delicate finger sandwiches, luscious petit fours, sweet and savoury pastries, fresh scones with preserve and cream, tea or coffee.
From $65 per person | Available Friday, Saturday & Sunday only