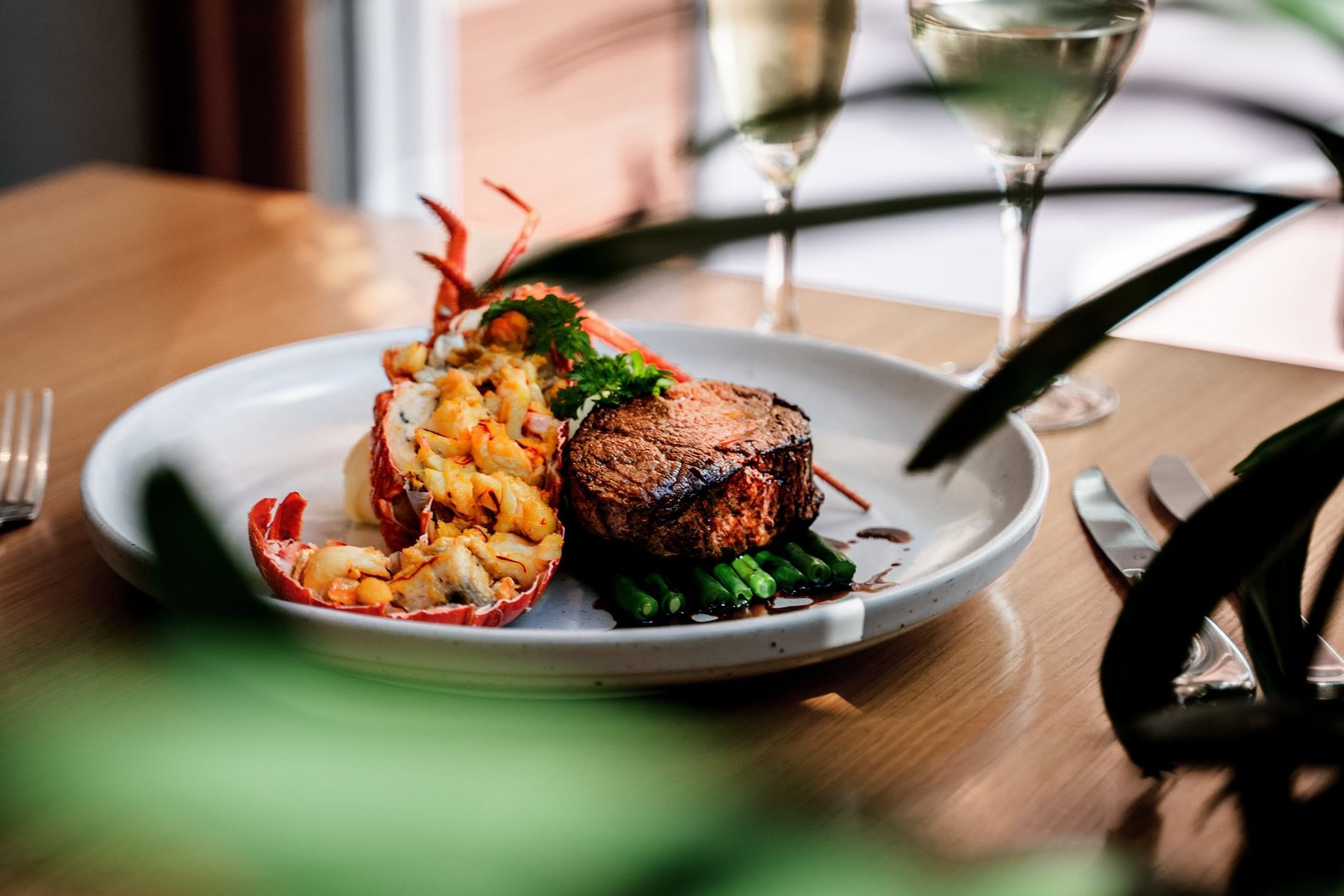 Coco's Kitchen + Bar Menu
at Pullman Cairns International
Coco's Kitchen + Bar Menu
Coco's Menu
While You Wait.
House made fougasse sourdough with olives & lemon thyme, salsa verde dipping sauce $14
Confit garlic and herb bread $9
Toasted ciabatta, sweet potato dip sprinkled with dukkha (VG)(DF) $13
Small Plates.
Truffled parmesan mousse, charred asparagus, slow roasted cherry tomatoes, toasted almonds, basil oil, ciabatta (V)(GF) $18
Sumac spiced lamb, moscato poached pear, celeriac, rocket, walnut & goats cheese whip (GF) $21
Lime & blood orange scallop ceviche (½ doz), ribbon cucumber, water cress salad & tobiko (GF)(DF)(NF) $21
House made QLD crab and FNQ tiger prawn ravioli, lemon butter sauce, toasted hazelnuts & pecorino $18
Twice cooked Tolga pork belly, carrot & ginger puree, garlic soup shot $19
Glazed pumpkin with sweet potato honey, raspberry white balsamic, beetroot, rocket, pumpkin & sunflower seeds, praline crunch (VG)(DF)(GF) $16
Something Light.
Fresh mint & coriander, cucumber, cherry tomato, kaffir lime dressing & crispy noodle salad served with your choice of crispy pork belly, marinated beef or Thai fish cakes (GF)(DF) $22
Smoked chicken, pomegranate, roasted fennel, mint, Persian fetta & snow pea tendrils salad (GF) $20
Large Plates.
Linguine with cherry tomatoes, garlic, chilli, white wine, lemon, black mussels, squid and fresh herbs $27
Sous vide chermoula chicken breast, char grilled corn, chickpeas, almonds, cherry tomato salsa, lemon & apricot yoghurt (GF) $33
Duck breast, pea puree, roasted carrot, yellow beetroot, edamame bean & chorizo crumble (DF) $36
Wagyu beef rump (110g), lamb cutlet, Byrne's pork sausage, charred broccolini & truffle mushroom mash $49
Sous vide Black Angus beef tenderloin (200g), half lobster thermidor, truffle mash & green beans with red wine jus $70
Fennel & cumin watermelon steak, pea puree, cucumber, coriander, lemon & fetta salad (VG) $24
Fish of the day MP
Something Sweet.
Pastry Chef Ash's dessert of the day $16
Coco's Kitchen + Bar signature dessert
Poached banana mousse, sugar cane juice centre & ginger crumble (GF) $18
Vanilla & white chocolate creme brulée, strawberry & Mt Uncle gin salsa (GF) $16
Mango crémeux pavlova, pistachio sable, mango gel, chantilly & coconut praline (GF) $16
Local cheese plate selection of hard and soft cheese, dried fruits, nuts, crackers, breads $25
Sorbet trio (VG)(DF)(GF) $12
(V) Vegetarian (GF) Gluten Free (HC) Healthy Choice (VG) Vegan (GA) Gluten Free Available
(DF) Dairy Free (NF) Nut Free
Bubble & Trouble
NV- Legacy Brut - Riverina, NSW 9 44
NV- Veuve D'argent Cuvée Prestige Blanc De Blanc - Loire, France 54
NV- Emeri Pink Moscato - Riverina, NSW 10 46
NV- Divici Prosecco DOC - Veneto, Italy 12 57
NV- Chandon Brut Rose - Yarra Valley, VIC 15 73
NV- Mumm Cordon Rouge - Reims, France 90
NV- G.H Mumm Rosé - Reims, France 99
NV- Louis Roederer - Reims, France 120
Light & Smooth
2018- Yalumba « Samuel's Collection » Chardonnay - Barossa Valley, SA 59
2018- Snake & Herring "Tough Love" Chardonnay - Margaret River, WA 64
2017- Yalumba « Samuel's Collection » Viognier - Barossa Valley, SA 61
2017- Yalumba « Samuel's Collection » Roussane - Barossa Valley, SA 12 20 58
2019- Molly's Cradle Chardonnay - Hunter Valley, VIC 10 16 48
2016- Pala I Fiori Vermentino Di Sardegna DOC - Sardinia, Italy 57
2015- DeBortoli Villages Chardonnay - Yarra Valley, VIC 54
Fresh & Fruity
2019- Shaw & Smith Sauvignon Blanc - Adelaide Hills, SA 78
2019- Ara Pinot Gris - Marlborough, NZ 12 20 58
2018- Redbank Sauvignon Blanc - VIC 52
2018- Dalrymple Sauvignon Blanc - Pipers River, TAS 69
2018- Legacy Sémillon Sauvignon Blanc - Riverina, NSW 9 15 44
2018- Three Tales Sauvignon Blanc - Marlborough, NZ 11 19 54
2017- Robert Oatley Signature Series Sauvignon Blanc - Margaret River, WA 60
2016- Les Princes Abbes Pinot Gris - Alsace, France 13 21 64
2016- Derwent Estate Riesling - Derwent River, TAS 14 23 67
2015- Domaine Schlumberger Pinot Blanc - Alsace, France 66
Think Pink
2018- La Vieille Ferme Côtes-Du-Ventoux Rosé - Rhône, France 11 18 52
2017- DeBortoli Villages Grenache Rose - Heathcote, NSW 59
2017- Rameau D'Or Rose - Côtes de Provence, France (Magnum) 89
2016- De Beaurepaire Match Point Rosé - Rylstone, NSW 55
2016- Chateau De Sours Rosé - Bordeaux, France 64
2014- Chateau Musar Jeune Rosé – Lebanon 81
Balanced & Approachable
2019- Molly's Cradle Merlot - Clare Valley, SA 10 16 48
2018- Legacy Cabernet Sauvignon, Merlot - Riverina, NSW 9 15 44
2018- Rockburn Devil's Staircase Pinot Noir - Central Otago, NZ 12 20 59
2017- Dalz Otto Sangiovese - King Valley, VIC 13 22 63
2014- Vina Ventisquero Pinot Noir - Casablanca Valley, Chile 49
2017- Robert Oatley Signature Series Cabernet Sauvignon - Margaret River, WA 12 21 62
2017- Yalumba 'Samuel's Collection' Shiraz - Barossa Valley, SA 13 22 63
2018- Rockbare Shiraz - Mclaren Vale, SA 69
Mature & Rich
2015- Louis Jadot « Couvent des Jacobins » Pinot Noir - Burgundy, France 62
2016- Argento Reserva Malbec - Mendoza, Argentina 14 23 67
2016- De Beaurepaire Henri Cabernet, Merlot, Petit Verdot - Rylstone, NSW 69
2013- Dourthe « Terrace de la Jalle » - Medoc, France 57
2017- Prunotto Barbera D'alba DOC - Piedmont, Italy 68
2012- Rymill Maturation Release Cabernet Sauvignon - Coonawarra, SA 99
2015- Oakridge 864 Cabernet Sauvignon - Coonawarra, SA 140
2016- Hickinbotham Clarendon Vineyard Shiraz - Mclaren Vale, SA 130
2015- Brand's Laira "One Seven One" Cabernet Sauvignon - Coonawarra, SA 150
2014- E.Guigal Côtes-Du-Rhône Rouge - Rhône, France (Magnum) 135
2012- St Hugo Shiraz - Barossa Valley, SA 105
Sticky & Sweet
2016- Royal Tokaji Late Harvest - Hungary 14 67
2018- De Beaurepaire Coeur D'or - Rylstone, NSW 13 62
2015- Yalumba Botrytis Viognier - Warttonbully, SA 12 59
2014- De Bortoli Noble One - Riverina, NSW 15 73
Young & Vibrant
2018- Pipers Brook Estate Pinot Noir - Pipers Brook, TAS 79
2016- Josef Chromy Pinot Noir - Relbia, TAS 89
The Plumbus $20
Wolf Lane Davidson Plum sloe gin, cherry brandy served with burnt rosemary & lemon

Passionate Scene $19
Manny David's award winning cocktail
Bacardi, strawberry liquor, orange & lime juice topped with lemonade & fresh passionfruit pulp

Nutbush $18
Mt Uncle Botanic Australis Gin, Frangelico and Amaretto finished with lime and fresh orange

Neptune's Treasure $19
Mt Uncle Aneja Vodka, mandarin, Blue Curacao and raspberry with gold powder and soda

Club 1800 $18
1800 Anejo tequila and Havana 7 rum, shaken with fresh lime and sugar

Dirty Godmother $19
Johnnie Walker Black, frangelico, orgeat & Italian almond tea shaken with pineapple juice

Double Spiced Trouble $23
Woodford double oaked bourbon, ron zacapa 23 with choc cinnamon bitters

Peru You $20
Pisco, maraschino liqueur, Cointreau & lychee syrup with lemon, soda and Chambord

Festa en Rio$ 20
Native Brazilian cachaca and bacardi shaken with passionfruit, lime and pineapple juice

C'est La Vie $20
Chambord and mandarin liqueur with lime, Lillet Rouge and Sprite

Curious George$ 20
Monkey 47 Gin, Liquor 43 shaken with orange & lime juice & topped with Divici Prosecco

Ferrero Rocher $18
Frangelico, Licor 43, Baileys and Nutella with cream and crumbled cookies

American Pie $18
Apple liqueur, Absolut vanilla vodka, cinnamon syrup & cream

Midnight in Mexico $19
Café XO Patron, baileys, crème de cacao & homemade blueberry syrup
Spirits
Bourbon
Bulleit 9
Wild Turkey 10
Maker's Mark 10
Woodford Res Dbl Oaked 13
Vodka
Ketel One 9
Grey Goose 13
Mt Uncle Anjea (Tableland) 10
Rum
Bundaberg Select VAT 9
Pampero Blanco 9
Malibu 9
Bacardi 10
Captain Morgan Spiced 10
Havana Club 7 Anos 11
Kraken Spiced 13
Bundaberg Small Batch 12
Bundaberg Master Collection 15
Appleton Estate 11
Mt Uncle Platinum Cane Spirit 12 (Tableland)
Mt Uncle Iridium Gold (Tableland) 12
Ron Zacapa 15
Cognac
Remy Martin VSOP 14
Remy Martin XO 35
Courvoisier VSOP 14
Courvoisier XO 35
Tequila
Jose Cuervo 9
1800 Anejo 14
Don Julio Reposado 13
Patron Silver 12
Patron XO Cafe 13
Sake (150ml)
Dewatsuru Matsukura 26
Kouseihaku Momosuke 24
Hanamikura 22
Liqueurs 9
Aperitif
Pimms 9
Campari 9
Martini Bianco, Dry & Rosso 9
Pernod 9
Aperol 9
Scotch
Dimple 12 9
Chivas Regal 12 10
Johnnie Walker Black 10
Glenmorangie 10 13
Glenfiddich 12 12
The Macallan 18 62
Glenlivet 18 20
Laphroiag 10 16
Chivas Regal Ultis 35
Chivas Royal Salute 21 29
Ballantine's 17 15
Whiskey
Hibiki Japanese Harmony (Japan) 19
The Hakushu 12 (Japan) 69
The Yamazaki 12 (Japan) 49
The Hakushu 18 (Japan) 89
The Yamazaki 18 (Japan) 139
Hibiki 17 (Japan) 99
Jack Daniels Rye Single Barrel 18
Jack Daniels 10
Jameson 10
Woodford Reserve Rye 13
Canadian Club 10
Bulleit Rye 14
Mt Uncle Watkins (Tableland) 18
Gin
Tanqueray 9
Bombay Sapphire 10
Tanqueray 10 14
Mt Uncle Botanic Australis 11 (Tableland)
Mt Uncle Botanic Australis
Navy Strength 15
Botanic Australis Smoked
Navy Strength 15
Hendricks 13
To share
Sangria 25
Your choice of white or red

Get Your Krak 'on' 35
Malibu and Kraken with fresh orange, lime & mint, pineapple juice & ginger beer
Spritz
Passionate Pimms 15
Pimms, barista liqueur, lemon, strawberry, sprite & Emeri pink mocscato
Lavish & Luxe 15
Legacy cabernet merlot, creme de cacaio, Sprite & strawberry
Gentleman's Journey 15
Remy brandy, ginger liqueur, lime, dry ginger ale & Divici prosecco
Mandarin & Aperol 15
Lillet blanc, mandarin Napoleon, aperol, fresh lime & soda water
Sublime 15
Lillet rouge, Cointreau, strawberry liquor, Bandini prosecco & fresh lime
Beer
James Boags Light 8
XXXX Gold 8
Hahn Super Dry 9
James Boags Premium Lager 9.5
Iron Jack Crisp 8.5
Iron Jack Original 9
James Squire "150 Lashes" Pale Ale 9.5
Arlington Amber Ale (Cairns) 9.5
Two Turtles Pale Ale (Cairns) 9.5
Kirin Ichiban 10
Heineken Draught 300ml 10
Heineken Draught Pint 14
Cider
Pipsqueak 9.5
Tooheys 5 Seeds Cloudy Apple 9
Non alcoholic
Mineral Water
Badoit Sparkling 330Ml 6
Badoit Sparkling 750Ml 10
Evian Still 330Ml 6
Evian Still 750Ml 10
Brita Premium Still 750Ml 3
Brita Premium Sparkling 750Ml 3
Dilmah Iced Tea 5.5
lychee | mango | rose & vanilla | almond | jasmine
Post Mix 4.5
Coke, Lemonade, Tonic, Ginger Ale
Lemon, Lime & Bitters 5
Jug 12
Bottle/Can 5.5
Coke, Coke Zero, Lemon Squash
Juice 5
Orange, Pineapple, Apple,
Cranberry, Tomato
Jug 15
Mocktails
Mango And Lychee Daiquiriless 14
Mango nectar and lychee blended with ice producing a refreshing virgin daiquiri
Virgin Watermelon Mojito 14
Watermelon and mint muddled with sugar syrup topped with lemonade and soda
Tropical Splice 14
Pineapple and mango juice topped with coconut cream
Grapefruit LLB 12
Lemon juice, Sprite, Tiki bitter, dehydrated grapfruit and lime
Sticky & Sweet (75Ml)
2016 - Royal Tokaji Late Harvest - Hungary
Glass $14 Bottle $67
2011 - De Bortoli Noble One - Riverina, NSW
Glass $15 Bottle $73
2010 - Sticks Botrytis Riesling - Yarra Valley, VIC
Glass $11 Bottle $49
2012 - Yalumba Botrytis Viognier - Warttonbully, SA
Glass $12 Bottle $59
2016 - De Beaurepaire Coeur D'or - Rylstone, NSW
Glass $13 Bottle $62
Port & Sherry
Emilio Lustau Pedro Ximenez 'San Emili' Jerez $10
Warre's Otima 10 Years $18
Yalumba Galway Pipe $10
Grandfather $25
McWilliams Show Reserve Tawny $22
McWilliams Show Reserve Topaque $22
Cognac
Remy Martin VSOP $14
Remy Martin XO $35
Courvoisier VSOP $14
Courvoisier XO $35
"The Roaster Guy" Coffee
Short Black, Short Macchiato $4
Long Black, Flat White, Latte, Cappuccino, Mocha, Long Macchiato, Chai Latte, Hot Chocolate $5
Iced Coffee, Iced Chocolate $8
"Dilmah" Loose Leaf Tea
Brillant Breakfast, The Original Earl Grey, Rose With French Vanilla, $5
Ceylon Young Hyson Green Tea, Moroccan Mint Green Tea, Green Tea With Jasmine Flowers, Pure Chamomile Flowers, Pure Peppermint Leaves, Italian Almond, Ran Watte, Jade Butterfly Handmade White Tea, $6
Keemun Special Leaf Tea, Jasmine Pear Dragon White Tea $6